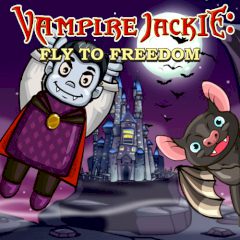 Vampire Jackie: Fly to Freedom
It's Vampire Jackie's anniversary today and he wants to celebrate it good. Your only company is a bat, because you are too old to have normal friends. Fly high and avoid traps and obstacles on your way.
What would you do on your 546 birthday? Well, you have tried everything you wanted, so there is a time for something unusual today. Grab your only friend bat and fly high together. Dodge the obstacles on your way, such as fans, spikes, bee swarms and many other things that can stop you from having fun. Make sure you have cleared the path when you tap on Jackie!
Game Statistics
Tags
Game Developer
Embed Game
Share