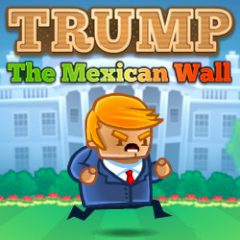 Trump: The Mexican Wall
Donald Trump wants to become the President of the United States so much, that he can hunt the votes himself. Collect votes in front of the White House of near the Mexican Wall and dodge explosives around.
Donald Trump needs your help in collecting the votes of his voters, but there are many things that can prevent him from doing this. For example, there is an armored helicopter with a shooter on the board who want you to fail, and time after time various bombs will appear on the lawn of the White House. Can you dodge that and collect all votes that fall from the sky?
Game Statistics
Tags
Game Developer
Embed Game
Share