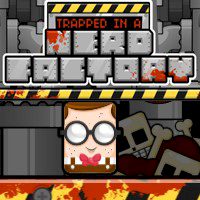 Trapped in a Nerd Factory
Nerd factory is a strange, but very entertaining place. Move around and jump over other nerds, get points and combos and dodge the traps.
Are you ready for a nerd challenge? Start the game in a small chamber with no living soul around. When other nerd appears, quickly get rid of him and get back on the safe platform. When you hear a siren sound, make sure you will dodge all deadly things it brings with itself!
Game Statistics
Tags
Game Developer
Embed Game
Share