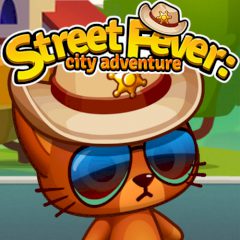 Street Fever: City Adventure
Have you ever seen that? Just try to stop the car and do not make a crash, no way. So, if you are ready for that, then just do it right now and you will be the real winner of the game. Just have much fun here and enjoy the game.
Well, this is the new sheriff in town, who faces the challenge of controlling road traffic in a place where a traffic code is something unheard of. Just try to help him to prevent chaos on the streets! You should find a perfect strategy so tap cars to stop or swipe to speed them up making the game more dynamic and earning extra points. And don't let them crush and hit pedestrians! Everything depends on your skills, so just have faith in yourself and play the game. Well, are you ready for that? Then just go ahead and do not waste your time.
Game Statistics
Tags
Game Developer
Embed Game
Share