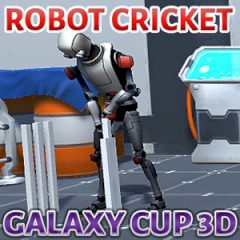 Robot Cricket Galaxy Cup 3D
Become a real robot and play the most wonderful cricket game. Everything depends on you, so just use the mouse to play and hit the ball. Is everything clear? Then go ahead right now and help this cute robot to become a real champion. Vanquish the game.
So, do you want to be the Galaxy Cricket Champion? Then choose the game and become a real robot cricket is an addictive game designed for cricket fans. Well, in this real cricket game you can play against the Galaxy. Just try to play as a robot cricket and grab galaxy cricket championship trophy. By the way, it makes you to robot cricket and learn new techniques, which helps you in real cricketing shots, so just have faith in yourself and have so much fun here! We wish you good luck and enjoy the game.
Game Statistics
Tags
Embed Game
Share