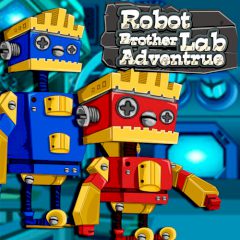 Robot Brother Lab Adventure
Robot brothers are going to stop the evil professor, that is going to destroy the world. A tiny string connects two robots, so they can't split. The only thing left to do, is to cooperate with each other and find the key to the next level.
Are you ready to save the world from the evil professor? Only these two robots know about his plans, because he has no contacts with the outer world. Considering the fact, that all robots are programmed to protect humans and all humanity, they will do everything to stop their own master. Complete the chain of quests and find the key to open the door at the end of every level.
Game Statistics
Tags
Embed Game
Share