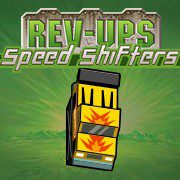 Rev-ups Speed Shifters
Are you ready for the extreme drive? Release a car and watch the route, then click on the special buttons to change it and collect all magnets around to activate the elevator.
Sometimes we should make quick and right decisions in order to avoid problems or react on the incoming obstacles. In this game you will have to shift the lever arm and change the route of the speedy car. Try to collect all magnets and avoid the obstacles around. When you are done, get on the elevator and proceed to the next level!
Game Statistics
Tags
Embed Game
Share