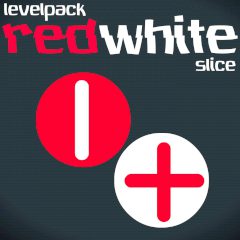 RedWhite Slice Levelpack
An unusual puzzle game where your goal is to cut off pieces of the plane. According to it moving balls of plus and minus charged particles. It's easy, you just have to disconnect the largest area with the minus charged component (red ball with a "minus") and so on. As a result should be a form with very small shape of one positively and one negatively charged element. Pass all 20 levels in the easy or hard modes! Get new top score!
This time you have to use all your skills and do everything to solve each puzzle, cause it is quite difficult. Your main goal is to cut off the slice where only the minus elements are. Be very attentive, cause there should be only the one thing, so just try it and you will be not disappointed. There are also two modes easy and hard. Try not to do a mistake and win this game! You can even be the best player! Just do everything right and you will love it! Just cut it off and enjoy the game. Good luck to you here.
Game Statistics
Rating
Rated

75

Played

172,124