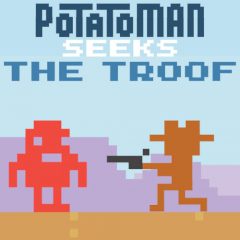 Potatoman Seeks the Troof
He needs your help! Just do everything to pass each stage easily and help Potatoman to reach the main goal. There are so many strange things in the desert, just avoid them and be sure that you will love it. Use all the tips and have fun.
This Potatoman is looking for something. Hmm. What could be this? What that is he isn't entirely sure, but he will know it when he finds it. But one thing is certain that every living thing he encounters seems to have an opinion. Also, they're trying to kill him. By the way, trot and hop your way across several landscapes as you take in the wisdom from the animals, avoiding things like bouncing cacti, flying bird eggs, piles of boulders, and a host of more creative obstacles. Are you ready? Then go ahead!
Game Statistics
Tags
Game Developer
Embed Game
Share