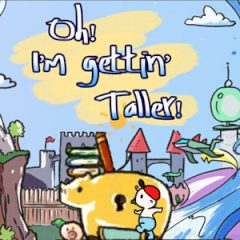 Oh! I'm Getting Taller!
Every kid dreams about growing up as soon as possible. Why do they want it? It's because new opportunities unlock with every inch you add to your height. Explore the world and listen to your mom!
Every kid grows so fast, that you spot the difference between his previous and current height almost every day. This little kid wants to get taller not because he just wants so, but because it will open new opportunities for the young man! Grow up and unlock new paths for your further exploration. Make your next step and see what awaits for you ahead!
Game Statistics
Tags
Game Developer
Embed Game
Share