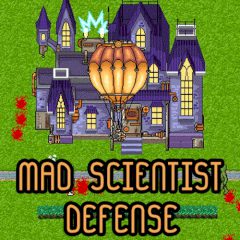 Mad Scientist Defence
The experiment of one professor went wrong, so his lab is now surrounded with dead and nasty creatures. Protect the lab flying your armed aerostat and place various traps on the way to the lab.
Stop the invasion of cruel monsters, that were awoken by curious professor. He did this accidentally, but now he has to stop this madness somehow. Protect his lab while he is trying to fix this using a mighty aerostat. Fly and patrol the territory, placing various traps and turrets on the way to the lab. Spend money on upgrades and before more efficient against them.
Game Statistics
Tags
Game Developer
Embed Game
Share