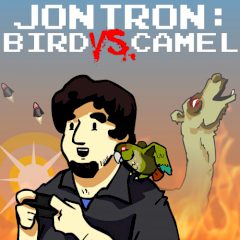 JonTron Bird vs Camel
In this game you must play as a little bird and protect your friend and kill all the camels! Do you think that it is so easy? Well, then just try it and use arrows to move and space to shoot. Be ready for that and protect him as better as you can.
Have you ever seen that? Birds are so strong! Just take on the role of the green parrot and protect your best pal Jon Tron from evil camels. Is everything clear? Well, then you can be sure that this game will be your favorite one! Just have faith in yourself and you will cope with it. In this funny, action-packed shooting game JonTron: Bird vs Camel. By the way, camel you can shoot fireballs with your eyes. Just try to kill all camels before they can reach and harm your friend. E sure that you will do it. Use arrow keys to control and space to shoot.
Game Statistics
Tags
Embed Game
Share