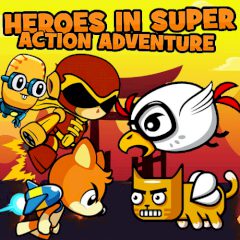 Heroes in Super Action Adventure
When your home planet is in danger, there is no one except the Heroes, who could save it. The great threat comes from the hostile animals, so you need to stop the invasion, or you will lose your home!
Protect your planet from the invasion of birds and their great leader, the chicken! With the help of his friend, the cat, they are going to take control of Earth and no one could stop them, except the Heroes. They will smash every single bird on their way using special abilities of each other. Switch between characters and pick the right hero for every mission.
Game Statistics
Tags
Game Developer
Embed Game
Share