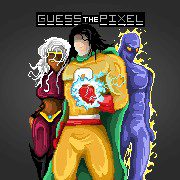 Guess the Pixel: Comics
Watch pixel characters and try to spot your favourite comics heroes. Click on the character and fill the missing words at the bottom. Guess all names and complete the game!
This game is a real test and a challenge for people who are fascinated about comics. In this game you are going to guess all super heroes and villains by their pixel picture that delivers a blurred silhouette. Click on the character you guess you know and enter his name. If you are correct, proceed further and try to guess them all!
Game Statistics
Tags
Game Developer
Embed Game
Share