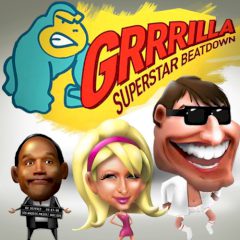 Grrrilla Superstar Beatdown
First of all you must choose the celebrity. Who do you like? So, just choose and throw! Use the huge hand and be very attentive! You will really cope with and play this game for hours. Use the mouse to play and have so much fun!

Choose your celebrity, drop kick your celebrity into grills playground. Unleash your grrr! And get points. Use your mouse to pick up and throw your celebrity. You can also pick up objects and throw them. Get creative with your beat down. All of us want a chance to spill out hatred against celebs! Here is a chance for you to take the Grrrr out of anger. All you need to do is choose your celeb then drop and kick your celeb into Grrrilla's Playground! Is everything clear? Then start the game right now and show everyone that you are the best!
Game Statistics
Tags
Embed Game
Share