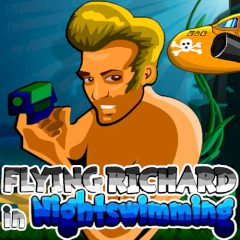 Flying Richard in Hightswimming
Save the bikini babes, cause they were kidnapped by a really strange and awful guy! Control Richard, the safeguard and save them! Use your weapon to kill all the enemies and reach the goal. Are you ready for such a challenging game? So go ahead!
Something terrible has happened and baby bikini were kidnapped! And Richard the lifeguard was enjoying his day of sun, sea and surf when one day the fat Captain Hermoso came to his beach to ruin Richard's day and do a lot of awful things. The Captain has kidnapped the bikini beach babes and Richard needs to get them back. So, your task is to grab your scuba gear and head underwater to deal with Hermoso and his goons. Just shoot enemies for coins and upgrade your weapons, armor and skills, so just do it and save the girls!
Game Statistics
Tags
Game Developer
Embed Game
Share