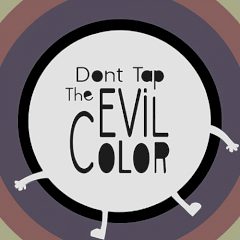 Don't Tap the Evil Color
In this game you are going to save this cute creature. He can turn into the monster if you will tap the black color, so just tap it and be really fast to increase your score. Everything is up to you, so just have fun and you will love this game.
It is really incredible cuase we will check your speed and reaction! You will have to rescue Circleman before the circle around him shrink, tap the screen as many times as you can to save him, but be careful with the color black, if you tap it, you will turn him into a monster. So, be sure that everything depends on you, so do not waste your precious time and press the circle! Is everything clear? Then just tap this cute creature. But do not tap the black color, no way! Otherwise he will turn into the monster. Are you ready for such a cool challenging game? Then just play it right now.
Game Statistics
Tags
Embed Game
Share