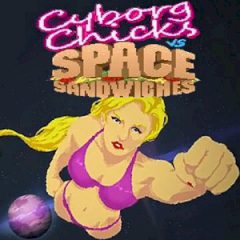 Cyborg Chicks vs Space Sandwiches
Would you like to be moved to the distant space? Then this is your chance! Everything that you must do is to control this cool girl and avoid any impediments. You think that it is so easy? Well, then just try it. Collect all the useful things and enjoy the game.
You are going to help a band of female cyborgs to survive in bullet hell with hordes of hate-fueled evil space breads heading your way. For this purpose you will have to use your heroine's super powers to get rid of burgers, sandwiches and toasts as you collect cash and power-ups. Do not forget to make upgrades and unlock more fighters to to decide the battle in your favorite in Cyborg Chicks vs Space Sandwiches! You will have so much fun here, just avoid all the obstacles and get a lot of points.
Game Statistics
Tags
Game Developer
Embed Game
Share