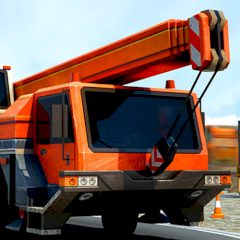 Construction Crane 3D Parking
Have you ever dream to drive such a huge vehicle? Then use your chance and set the best record! You must park this big truck and do it in time, otherwise the game will be over. Are you ready for such a challenging game? Then go ahead!
Wow! The cranes are not your regular vehicle, they are huge and they have a different shape, so they are more challenging to steer, but more rewarding at the same time and you will have so much fun! You have to be a very skilled driver to succeed. So get behind the wheel and complete all these incredible parking challenges to win the game and move fast to finish each mission before the time runs out, and make sure you do not crash the crane. Be sure that you only have three available lives, but if you lose a level you can use a gem to continue instead of starting all over again. Just use them wisely and enjoy it!
Game Statistics
Tags
Game Developer
Embed Game
Share