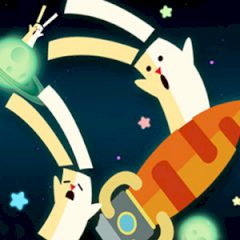 Come Home, Space Carrot Bunny
No, you should not explore all these planets, but you must jump on them and get a lot of points! You must use only the mouse click in time and be sure that you will manage it. So, have fun and help these carrots to be the best.
You must get ready and charge your carrot rocket because there's a very important mission for you captain, cause you are in charge of our finest equipment in the race for space exploration. You are not the first in this dangerous route, in fact, your top secret mission is to rescue the previous captains from failed missions that have been lost in the path for endless exploration. But, now it's time to explore those planets and rescue our friends, captain. Just enjoy this cool game and try to be very exact.
Game Statistics
Tags
Game Developer
Embed Game
Share