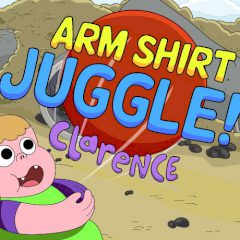 Clarence Arm Shirt Juggle
Clarence is going to play one interesting, but quite silly game. Bounce the ball on his belly and earn points. Avoid dangerous objects and catch other balls to double the points!
Clarence wasn't a smart kid, but he knows how to entertain himself. This time he got bored at the junk and he couldn't find a better way to increase his mood than to bounce the ball on his belly. Keep the ball in the air and dodge other falling objects that stun our hero. Don't let him lose the ball!
Game Statistics
Tags
Embed Game
Share