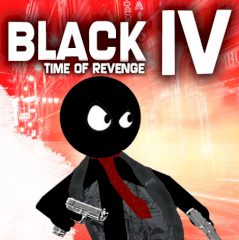 Black IV Time of Revenge
This is an amazing shooting game. You are a killer. You have a target to kill, and you have to do anything you can to do it. You have e multiples weapons to use. You will face s lot of enemies, so you will have to show all your abilities to win.
Have you wanted to be a professional killer? In this shooting game, developed by armor games, you have an opportunity tom make your dream come true. You will become a real assassin, who have no fear of no one and can eliminate easily any victim. He's he can use expertly any type of weapon. In this game your mission is to kill indicated targets and stay alive. In the each mission you will face a lot of bad guys so get ready for a bloody battle. Each mission will be more complicated with the stronger enemies harder to kill. So you will have to show all shooting abilities to win. You think that you are skilled enough to do it? Can you eliminate all the victims and come back alive? If you can, begin this breathtaking adventure right now!
Game Statistics
Rating
Rated

51

Played

9,752