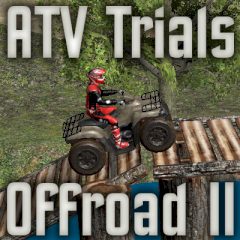 ATV Trials Offroad II
Ride a powerful ATV and complete a complicated offroad track, full of obstacles and abrupt trampolines. Set the optimal angle of the jump and land accurately without falling off.
Get ready for a real ride. An ATV is fun to ride, but not less dangerous. Get on the vehicle and accelerate forward, leaning forward or back to control it in the air or before the jump. Reach the finish and set the best time to the game. Complete all levels and improve your current result. Ride and have fun!
Game Statistics
Tags
Game Developer
Embed Game
Share