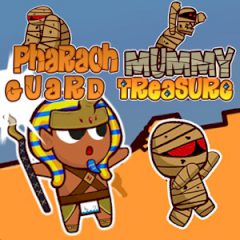 Pharaoh Mummy Guard Treasures
Pharaoh and Mummy are the best friends and they have an important mission. The ancient treasure must be saved from marauders and filthy scum. Work in pairs to reach the treasure, dealing with enemies and traps.
The ancient tombs often been robbed by marauders, but this tomb is guarded. How is this possible, when so many years have passed? There are two creatures inside, and they won't let anyone rob their home. Use Pharaoh's scepter to kill unwanted guests and Mummy to smash the obstacles. Protect the treasures and collect time badges during your adventure.