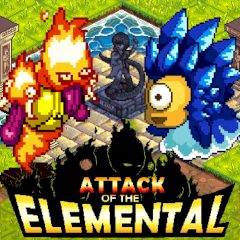 Attack of the Elemental
We are waiting for you! Yes! You must save this land and become a hero! Just do everything to drive off an attack and save people from these terrible monsters. Place as many towers as possible and upgrade it. For every killed foe you will get some money. Good luck to you!
On this territory was so long a peace. But now, something terrible has happened. Build tower to stop monsters from getting through. Click build icon and then put the tower on available area. Upgrade tower by clicking the tower and then choose the upgrade you want to build. Tower and monster have elements. Neutral, fire, water and earth. Each element has weakness against other element. Hold fast forward button or hold space key to increase pace of the game. Use the mouse to control and hold the space to fasten the game. Are you ready for that? So, protect this land and be the hero!