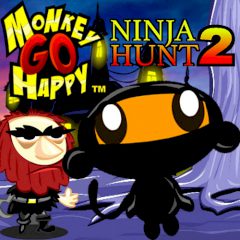 Monkey Go Happy Ninja Hunt 2
Choose the monkey you like most or depending on your age and put the hat on. You hear other monkeys yell for help and you need to save them! Get out and try to find every hiding ninja monkey on the level. Don't miss a single one and move to another level.
Monkeys are that kind of animals that love climb or hide in weird places. However, this time it's not a joke and some of little ninja monkeys are in trouble. Choose your character, whether it's an old monkey or a crying teenager and go out on the rescue mission. Solve riddles and watch every corner and shelter to find all monkeys that are lost.