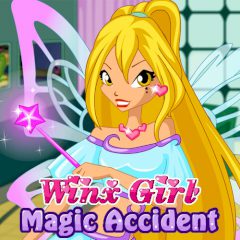 Winx Girl Magic Accident
Sometimes careless usage of magic can cause unexpected results. Despite, that magic is often used for good purpose, it can harm the sorcerer. You will remember this accident for a long time, but first you need to heal your wounds. Can you make it right?
Winx Club is the perfect place for the dare fairies. However, their beauty and confidence won't ensure safe usage of the magic. Look at this poor fairy! She is wounded and disappointed about her failure. No need to be frustrated about it as we all make mistakes. Heal your wounds and dress up in a new dress!