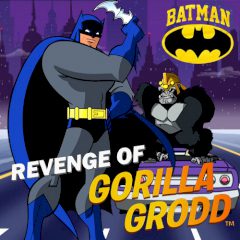 Batman Revenge of Gorilla Grodd
The Batmobile is an ultimate car with lots of secret weapons and heavy armor. It's quick and powerful, but this gorilla is throwing explosives and other junks on the road. Don't drive close to them and try to catch the villain!
Sometimes even superheroes need assistance. The Batman is on the tail of the Gorilla Grodd's car and he needs you to take control of the Batmobile. Hold the steering wheel and avoid things that gorilla will throw in front of you. Change the lanes and try to stay away from the bombs and TNT's. Your followers will try to help and you need to collect fuel and badges to restore your energy.