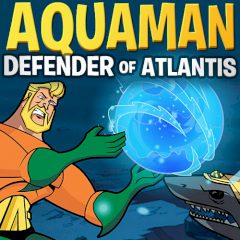 Aquaman Defender of Atlantis
Maintain the peace and quiet of the Atlantis playing as the Aquaman. Stand still at the gates of the city and don't let anyone pass through it or the balance will be broken. Blast the attacking creatures and save the city from the intruders!
Aquaman is the defender of the Atlantis not just by accident. His super powers allow him to deal with the most dangerous enemies and creatures of the deep ocean. Sometimes they all get attracted by the mysteries of the Atlantis city and they want to explore its secrets. You have to stop them before they reach the gates of the city. Use your blasts to kill them before they smash the rock wall!