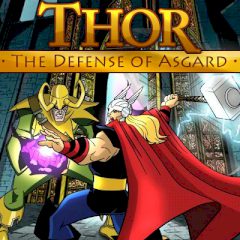 Thor The Defense of Asgard
Sometimes even the center of the universe is in danger. Asgard has been attacked by the unknown power and its guards weren't prepared for this. Thor is the only one who can resist them, but he needs to use his hammer smart.
Asgard has many enemies and they all hide while the kingdom is guarded by Thor and his soldiers. They all await for some miracle, a chance to strike suddenly right in the heart of Asgard, but that happens so rarely. The soldiers of Asgard were inattentive today and they didn't see how enemy scouts entered the city. This could be a real disaster if Thor won't fix this problem...