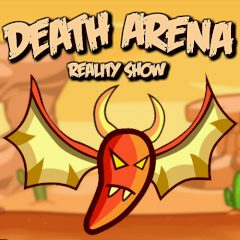 Death Arena Reality Show
In this game you will face to so many monsters! So, if there are no other more important things, then just start it right now and help the bat to stay alive as long as possible. Just use the arrows to control it and kill all the enemies. Watch out! They are already here!
Watch out! There are so many strange creatures! Just use all your skills and fight powerful heroes and waves of minions on your tv show to entertain your viewers in this comedic bullet hell game! Do not forget to upgrade your skills and learn new abilities as you go along with the program! Be sure that you can cope with it! Just use all the skills and stay alive here. Your bat will shoot automatically, just use arrow keys to move and you will be the real winner of the game. Have much fun here and good luck to you!