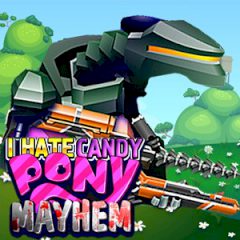 I Hate Candy Pony Mayhem
This time you will be the real robot and your task is to avoid all the obstacles, kill the enemies and collect all the required things. You have only 48 hours for the mission! So, hurry up and you will love this game. Enjoy it right now!
You have a very important mission to move to the other planet and collect all the needed things. This is a great shooting games play online for free. When you are on a nice vacation in outer space. Your colonel gave you a new mission to retrieve a some secret weapon from the candy planet. And only 48 hours to accomplish the mission. The colonel is counting on you. That is why you should not waste any minute and reach the goal! Is everything clear? So, this game is for you! Just have a lot of fun here!