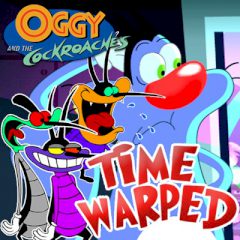 Oggy and the Cockroaches Time Warped
They really need your help! You must actually do something that your best friends could come back home. They have lost in time and in this game you must explore this territory, collect crystals and find the right way back home.
Oggy and cockroaches has lost in time and they are scared! You must help them to find the right way home. Collect the time crystals scattered through the four areas to fully power the time machine and send them back home. Visit any of the four eras by using doors in the time room. Return to the time room by using the time machines scattered in every area. So, explore this territory and help your favorite characters to find the right way back home. Is everything clear? Then do not waste your time and play it! Have a lot of fun!