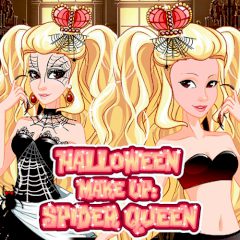 Halloween Make up: Spider Queen
Soon is Halloween! Do you already know whom you will be? Yes? Then help this cute girl to become a real queen of the spider! You need to make for her a make-up and choose a dress for the holiday. You will succeed.
Soon is Halloween! And you have a great chance to choose the most incredible dress for this cool girl. Here you can choose three different looks, so do not limit your imagination and do everything to cope with it. So, if you are ready, then help her, cause soon is Halloween and there is no more time to explain, cause you should do everything to make her the most beautiful. Today will be a real party, so, just choose the most cool dress, do the make up and do not forget about accessories. We know that you can cope with it.