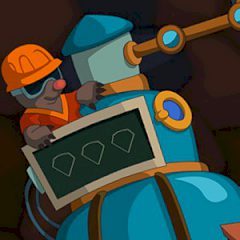 Mr. Bob Gem Collector
Have you ever been in such a strange place? Well, this is a real adventure in an underground world, where you can collect a lot of gems. So, just be very careful and help the mole to become the richest one. Are you able to do that? Then go ahead!
You are welcome to the underground world. Well, this clever mole has found a new way of business. Then just let make Mr.Bob rich by fabricating new gems from three of the same collected fragments, located deep underground. Be very attentive and use his robotic grabber machine to collect three of the same shaped fragments. You will really cope with it right now. So, the main thing is to collect all fragments to complete the level! We wish you good luck here and help this cute mole. Use the arrow keys to control the robot.
Game Statistics
Tags
Game Developer
Embed Game
Share