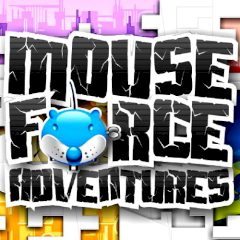 Mouse Force Adventures
This mouse is waiting for you! Cause it is in jeopardy and it has to move on platforms and click the mouse to move from up to down. Easy? Well, just try it and you will be not disappointed. Use all your skills to help these mouses. Enjoy the game right now.
Well, no you will be the little mouse and you need speed, ingenuity and persistence. Just imagine that the mouse robot is trying to escape from the cat robot, which is extremely fast and does not have any obstacles ahead. As you have already understood your job is to guide the mouse on the real path that's in front of him all the way to the finish line and once you get there you are actually finishing that level and starting new. By the way, mechanical mouse runs away from a mechanical cat. Help the mouse to escape changing the gravity and don't fall off the platforms. Good luck!
Game Statistics
Tags
Game Developer
Embed Game
Share