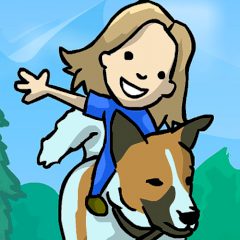 Anna and Bruno's Birthday Run!
Wow! It's incredible! This is a real birthday presents and cakes! Have you seen so many of them? Then come here and help this cute girl and her dog to collect all of them. But be really careful and attentive, otherwise you will fall down and the game will be over.
This cute girl and her little dog are waiting for you! So, the game is a simple, endless runner where you jump from platform to platform, collecting presents, birthday cakes and doggie treats for points, while trying to avoid thorny bushes and falling. Sounds easy, yeah? But you must do everything not to fall down and stay alive! This girl really needs your help, so just have much fun and try to cope with it right now. Use the arrow keys to move and move forward. You will really like it, have no doubt.
Game Statistics
Tags
Embed Game
Share