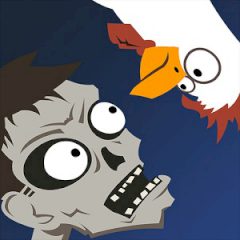 Zombie Hearts Chicken
This zombie is absolutely harmless to human beings – his favorite food is chicken meat. Help him to run through the farm, catch the chickens and eat to satiety in all of the levels. The longer you run and the more poultry you catch, the more points you earn.
This zombie adores chicken meat! He can do everything for a chicken drumstick! For example, today he decided to rob a poultry farm. In this arcade game your task is to help the walking dead run through the farm and catch as many chickens as it is possible. Are you ready to prove that a real zombie always has no problems with food? Then do not waste time and start playing this nice online game by drMikey Studios!