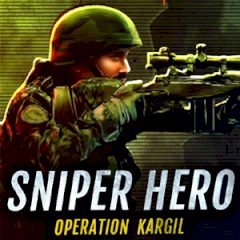 Sniper Hero Operation Kargil
Have you ever dream to become a sniper? In this game all your dreams will come true. Just imagine that you are alone and you must show us your professional shooting skills. Aim and shoot immediately, otherwise they will kill you. Have faith in yourself.
Your mission is very important! Cause you are hiding on the other side of the bridge and enemies as you go from all sides. Try to kill all of them and defend these attacks. Dispose of them and do not let them kill you. As an elite sniper, you are used to go into suicide missions. So, if you are ready, then do it! We hope that you will very quickly. If there is too much, crouching to recharge health and you can continue shooting. To aim click the right mouse button, to shoot use left mouse button. Ready? Let's go!