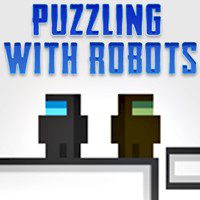 Puzzling with Robots
There are three robots and they requires your help. They must find the right way to the escape. Be ready to avoid all impediments and you will love this game. We wish you good luck. Use all your skills here. Enjoy this game.
Welcome to the future, where all robots can move and do something themselves. In this game you have a great chance to control little robots. They have to find the right way to the door. There are a lot of doors and other impediments. With every next level, it could be really hard. Use all your thinking abilities and help these cute creatures. Push some buttons to open an exact door. Hurry up, cause they really need your help. We are sure that you will cope with it easily. There are not os many levels, but they are cool enough.