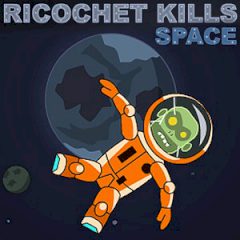 Ricochet Kills Space
We need you! Just take your gun and kill all the enemies here! You will be moved to the distant space, where you will face to many zombies. And all of them are so awful! Just take your weapon and kill them all immediately!
We are looking for the bravest guy, who really hates zombies! Are you one of them? So, just do everything to kill all these bad guys. Will you cope with it? Then just show it to us and take your gun! We know that you really hate them. Use different objects and be the real winner of the game. Is everything clear? So, just do everything perfect and this game will bring you so much pleasure. Kill them all and have faith in yourself. That is why, there is no other way, you must take your gun and shoot! By the way you have not so many bullets.