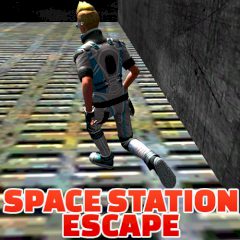 Space Station Escape
Have you ever dream to sink into the distance space, where you will have to find the right way to the escape? Yeah, this is your main task here! And we sure that you will cope with it! Just put enough efforts and you will be our hero!
This dangerous way is waiting for you! Well. Did you know that you will have such a great opportunity to become the real hero? Your main aim is to find the right way to your space rocket ship through the burning space station and escape into the galaxy! It is quite easy to control, just use the W or up arrow key to move forward, move backward using S or down arrow key, move right use D or right arrow key, and move left is S or left arrow key. You will have also to crouch and jump. Are you already fascinated? Just go ahead!