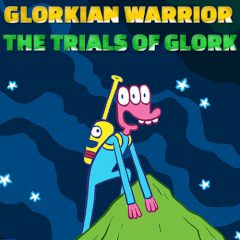 Glorkian Warrior the Trials of Glork
In this game you have to save the planet from the aliens invaders, cause they are coming every time and attack you! Listen to the robot and kill all of them at any rate! There is the only one way to the win. Use the arrow keys to move and shoot! The whole time! Collect all bonuses.
This is the real fight against an endless onslaught of alien creatures, and be prepared for anything that can happen! You have a Magic Robot appears when you least expect it, and might shower you with exploding basketballs or kittens! Follow all advices of your friend and do not forget to collect energy crackers and power up an awesome arsenal of double lasers, triple lasers and tennis balls while the invaders hypnotize you with their mesmerizing attack patterns. Try to save the asteroid from all these invaders! We know that you are really courage, so go ahead! Be careful and you will do this!