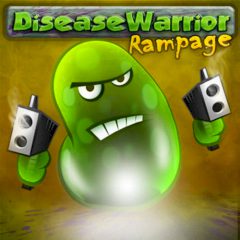 Disease Warrior Rampage
In this game you have to kill all bad virus and clear an inside space. Watch out! There are so many bad guys! Try to shoot and move around all the time, otherwise you will be dead. Do not let them to destroy you. Earn money and upgrade the main hero. Show everyone who you are!
Did you know that inside us live so many different beings? And all the time they are fighting with each other to survive. Sometimes good beings win this fight, but sometimes bad virus become the winner. So, your task is to help the main creature to survive. Defeat an evil virus army to stop an infection in a humans body. Move around and shoot all targets as you try to pick up new weapons, coins and health bonuses. Are you ready for such a cool challenge? Then do not waste time and help the main hero inside you! Then go ahead and shoot!