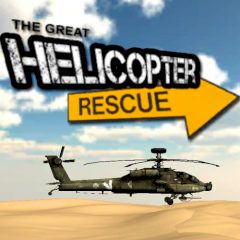 The Great Helicopter Rescue
We propose you to become the hero and rescuer! Are you ready? Then control the real helicopter and avoid all enemies, cause they are everywhere. Complete the mission and stay alive at any rate! We promise you that this game will be your favorite one.
Have you ever dream to fly your own helicopter? This is the best chance to do it! In this game you have a very serious mission. Be ready to rescue jeep from enemy base and of course, do not forget to destroy all the radio towers. You have only one life, so complete the game without die. You have only one life, so try not to be hit. There are so many foes and they are everywhere. Move the helicopter using the arrow keys. Be sure that you will cope with it! Just have faith in yourself and reach your aim!