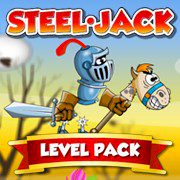 Steel Jack Level Pack
If you are not afraid of any barriers, then we advice you not to waste your time and do everything to save the princess, cause this game is for the really brave person. Be careful and control the brave steel knight. He really needs your help, have faith in yourself!
In this game you will sink into the fantastic fairy tale's world. Just imagine that you are really brave knight, and your goal is really difficult. You have to save the princess from the angry witch. There will be so many obstacles on your way that you have to be ready every minute. Here you face to horrible zombies, stones, fire, etc. Just using the space you may avoid it. Start to play it right now, cause she really needs your help! Do not forget to collect all gems. Reach your goal as quick as possible and you may be our hero! Good luck and take care!