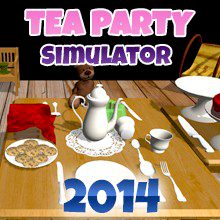 Tea Party Simulator 2014
In this game all your dreams will come true! Have you ever play such a fantastic real game? Move the hand with your mouse and grab the object then serve the tea to the Teddy bear across the table. It requires a lot of skills, so try to do it perfectly!
This is the most real time game you have ever played. There is a tea party time! Are you ready to take part? It is not so easy as it seems to be at first! Try to control your hand as better as you can. Do not let the party over! It is important not to fall something down that is on the table. Enjoy your tea with cookies. You have to slice cakes and serve tea to your teddy bear. If you play it once, this game may become your favorite one. So do not let your chance to slip! It is a limited playing time. So, be careful enough!