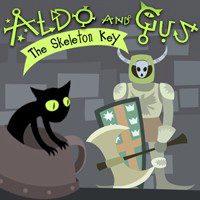 Aldo and Gus the Skeleton Key
You have a great chance to travel through the mystery land and save the main wizard! You must help the cat to collect all useful objects and find the main key! The wizard was kidnapped and you are the only one, who can save him. Just do it!
The main characters lived a happy life until the day when the Great Inquisitor came to catch and burn all witches, warlocks and wizards in other land. Poor Aldo was arrested and sent to jail, while the cat managed to run away. And now Gus, traveling in an old flying kettle, is his only hope, so you must help Gus to get Aldo out of prison by finding the key. You should gather objects and use them, search for hints in castles and towers, explore graveyards, cellars, and even the twilight world of sleeping ghosts. Is it clear? Then start your adventures and have fun!