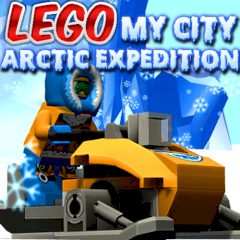 LEGO My City Arctic Expedition
Drive like a professional and control this cute little construction set. It will be so funny! Just use all tips and avoid all impediments. Travel through the Arctic and try to make everything. Speed up and become the champion here! Have faith in yourself!
Just imagine that you are in the cool arctic place. There are so many snow and hills, and many many other exciting and at the same time wonderful winter things. You will control a very big and cool snow sleigh. That is why if you are skilled enough then just control the lego. Use the arrow keys and try to avoid all obstacles on your way and do not forget to collect all coins. Who knows, maybe you will be the only one winner of the game! So, do not waste your time and start to play it right now!