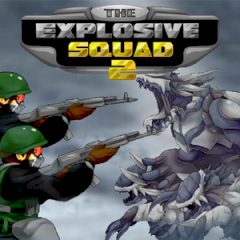 The Explosive Squad 2
Nobody knows what this invasion started with, but if you won't do something, we will lose our planet. Get landed in the area full of alien troops and kill them using various weapons.
What would you do if there were the alien invasion on our planet? Would you hide or help to resist the enemy? Play the bravest hero of all time and land it the area filled with enemy troops. Use your pistol to shoot them, don't get surrounded and collect supplies that drop from the air time after time. Can you kill all creatures, including the final boss?